Plan Your Visit
Gateway Church exists to help you experience Christ, grow in Christ, and take Christ to the world! We are very excited to meet you and worship with you! Church is a wonderful place to meet new people, go deeper in your faith journey, and find purpose for daily life.
Sundays at 9:00 am & 10:30 am for worship
Wednesdays LifeGroups at 7:00 pm
Where is the church located?
5473 Virginia Beach Blvd.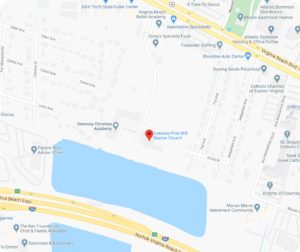 What should I expect?
Gateway is a multi-generational, multi-ethnic church with a family focus. You will be greeted to a coffee shop upon entrance and welcomed into the church auditorium for worship. Our service lasts about 45 minutes and includes praise and worship music and solid Bible teaching.
What should I wear?
You will find people dressed casually and others in suits. There is no dress code at Gateway; so wear what is you. We are thrilled just to have you worship with us!
Nurseries are provided for infants through age 3, and Preschool Classes are held for those ages 4-5. Elementary children (K-5th grade) are invited to Kids Worship each Sunday in the Student Center. All kids enter through check-in stations located in the hallways for kids activities.
On Wednesdays throughout the school year, our 1st- 5th grade children meet
in the Gymnasium at 7:00 pm for AWANA. AWANA is an engaging program that places children in the presence of caring adults who seek to help them take personal interest in their relationship with Christ. Our heartfelt prayer is that, through AWANA, every child will come to know, love and serve Jesus.
Nightly, AWANA consists of a large group teaching time, small group discussions, and a high energy game time. Check-in is located in the gym foyer.